No matter how you contribute to our Bears,
every dollar and every hour makes a difference.
Create lasting memories by participating in our events and get something in return! Check out these activities.
Happening Now!
Our team of volunteer photographers capture
precious memories of our Bears. This year, our yearbook can be be customized. They are $28. To purchase a yearbook or to create your custom message, go to www.TreeRing.com/validate and enter our school's passcode: 1015217531682993. (Form in Spanish)
Add your photos, too! Follow these instructions.
---
Just a plain old donation…
See us at one of our onsite events or send cash or check through your student's teacher addressed to BLES PTO. Thanks to those of you who've already given generously.
---
Sponsorship…
Does your company do in-kind or monetary donations? Take a look at all of the activities we have going. Consider finding a sponsor for one of our events today.
---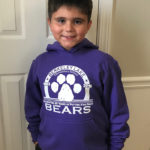 Your PTO provides spirit wear, plush bears, lunchboxes and more to help us show our Berkeley Bear spirit!
Sales are the last Friday of each month from 7:45 – 8:15 in the main lobby.
We are also at major school events.
---
You can give to our school just by shopping where you normally shop!
Click to get instructions on how to set up giving to our school.
*Note: Publix no longer uses the Publix Partners key fobs.
Please click to read more.
---
Photo keepsakes…
At Grandparent Day lunch and our memorable Candlelight Luncheons, our team of volunteer photographers take photos of our guest and design a border with a special BLES design and the year.
It's a must-have.
---
Enjoy a meal at your favorite restaurant with other BLES families.
A portion of the cost of your meal goes directly to our school.
---
The not-to-miss fun run of the year. Who doesn't need a turkey for Thanksgiving? And, did we mention pancakes? Yes, we're combining the annual pancake breakfast with the Turkey Trot run this year.
Work up an appetite. We'll have breakfast waiting!
More information published each September/October.
---
Dollar Donut Days…
In March, we'll be in the lobby each Friday morning at 7:45 selling Krispy Kreme donuts for $1.
Send a $1 with your child or come in and get some donuts to take to the office.
---
Bingo Night…
It's the event people stand in line for. Yes, it's true! It's a March Friday night of fun and prizes with some entertainment sprinkled in.
You can purchase dinner at the event.
What else can we say – it's the best family night out ever!