No matter how you contribute to our Bears,
every dollar and every hour makes a difference.
Create lasting memories by participating in our events and get something in return! Check out these activities and items for purchase.
---
Yearbook  |  Sponsorship  |  Spirit Wear  |  Shop & Give  |  Spirit Night
Photo Keepsakes  |  Turkey Trot  |  Bingo Night  | 
Dollar Donut Days  |  School Supply Kits 
Give a Donation, Get a Lifetime of Gratitude 
---
Yearbook…
With the current times, we have decided not to offer a school yearbook for this year.  We look forward to offering this option again for the 2021-2022 school year.
---
Just a plain old donation…
See us at one of our onsite events or send cash or check through your student's teacher addressed to BLES PTO.
New in 2020, give on MyPayments Plus!
If you have a student enrolled at BLES, you're a voting member of our Parent Teacher Organization (PTO). In lieu of a formal membership enrollment, we'd like for everyone who can to donate to the PTO so we can continue to provide financial support to our school. We've added two options for PTO donations on MyPaymentsPlus – the place where you already go to sign annual paperwork and pay for meals. Give to our general PTO fund to help pay for activities like STEM Night, cultural arts for each grade level and teacher supply reimbursements. We've also added a Helping Hands donation. Those donations go directly to buy essential items for our BLES food pantry. The suggested donation is $15 per family. However, we thank you for any amount you can contribute. Look for PTO in the "other payments" section. 
Thanks to those of you who've already given generously.
---
Sponsorship…
Does your company do in-kind or monetary donations? Take a look at all of the activities we have going. Consider finding a sponsor for one of our events today. Contact us at info@blespto.org.
---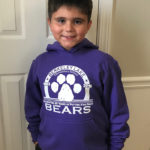 Spirit Wear…
Your PTO provides spirit wear, plush bears, lunchboxes and more to help us show our Berkeley Bear spirit!
Sales are online! We'll have pop-up sales throughout the year! Find out more. 
Also, we'll continue to be at major school events, and we can accept credit cards.
---
Shop and Give…
AmazonSmile: Support BLES every time you shop, at no cost to you with the exact same low prices, vast selection and convenient shopping experience as Amazon.com. You'll now have the bonus that Amazon will donate a portion of the purchase price BLES. On your first visit to AmazonSmile smile.amazon.com, you need to select Berkeley Lake PTO as your charitable organization to receive donations before you begin shopping. Amazon will remember your selection, and then every eligible purchase you make at smile.amazon.com will result in a donation. Click here to learn more.
Kroger: Simply visit http://www.kroger.com. Once logged into their Kroger account they can search for Berkeley Lake ES PTO, Inc and then click Enroll. New users will need to create an account which requires some basic information, a valid email address and a rewards card.
You can give to our school just by shopping where you normally shop! Get instructions on how to set up giving to our school.
Also, we have a new, online, way to give using Box Tops for Education. See our instructions. 
*Note: Publix no longer uses the Publix Partners key fobs. Also, we are in the midst of updating our PTO information instead of the old BLES PTA designation. 
---
Photo keepsakes…
At Grandparent Day lunch and our memorable Candlelight Luncheons, our team of volunteer photographers take photos of our guest and design a border with a special BLES design and the year.
It's a must-have.
---
Enjoy a meal at your favorite restaurant with other BLES families.
A portion of the cost of your meal goes directly to our school.
---
Turkey Trot…We are sad to say this year's Turkey Trot has been cancelled, but stay tuned for updates on a possible virtual run in the spring!
---
Dollar Donut Days…
In March, we'll be in the lobby each Friday morning at 7:45 selling Krispy Kreme donuts for $1.
Send a $1 with your child or come in and get some donuts to take to the office.
---
Bingo Night…
It's the event people stand in line for. Yes, it's true! It's a March Friday night of fun and prizes with some entertainment sprinkled in.
You can purchase dinner at the event.
What else can we say – it's the best family night out ever!
---
School Supply Kits
Order next year's school supplies before this school year ends!
Take pressure off back-to-school shopping! Order your child's teacher-customized supply kit now. Order forms are in student backpack mail this week. Pay online or send payment through your teacher. That's all you need to do.
The kit will be delivered to the school and placed in your child's classroom by the first day of school. A portion of the kit sales goes to the PTO to support our school. 
Note: The website is www.shopttkits.com and our account number is 10128. Questions? Email info@blespto.org.